Day 13
(August 5, 2002)
8:20 am (2,024 miles)
Lancaster, CA
We're pretty much the last ones to leave the motel--the parking lot that was full last night is now deserted. Once we get a latte, we'll start really cooking!
8:55 am
Mojave, CA
We seem to be in the midst of God's Forsaken Country. There's no sign of espresso anywhere, not even a badly hand-lettered sign in a donut shop.
9:53 am (2,114 miles)
Bakersfield, CA
We still can't find any espresso, but we do find a hospital, so Robert can pop in for another blood test. If you ever need a blood test, and you're in Bakersfield, we recommend Mercy Hospital; they are pretty darn quick about it. We're in and out in less time than it takes to order a burger.
World's Largest Olive
12:05 am (2,191 miles)
Lindsay, CA
Lindsay is a small rural town in the midst of massive amounts of agriculture. We can tell how massive by the World's Largest Olive, which is here.
The WL Olive sits in a parking lot next to a restaurant called the "Olive Tree" (the second time we've seen a giant vegetable associated with a restaurant--does the giant veggie come first?).
It is a black olive, seeded (you can see where the pit was), and is about 8 feet long. It's mounted on a white platform, although there's no plaque, sign, or other explanation of its existence. Probably the locals just take it for granted.
We document its presence and leave it in peace.
World's Largest Coffee Pot
1:32 pm (2,229 miles)
Kingsburg, CA
There must be something about this part of California, because just down the road from Lindsay is Kingsburg, home of TWO of the World's Largests!
"Eagle-eye" Laura spots the World's Largest Coffee Pot (this is extra impressive on her part, because we were looking for the World's Largest Tea Pot). It is another water tower, in this case remade to resemble a giant Scandanavian Coffee Pot.
There's even a brass plaque at the base: "Kingsburg is a unique community. To reflect this heritage, and friendliness of it's citizens, this water tower is being displayed as a coffee pot."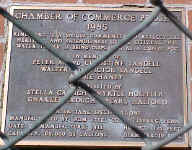 We have a good laugh at the mis-use of "it's"--especially since it's cast in metal and would be a real pain to fix.
Still, it's a nice looking Coffee Pot.
World's Largest Box of Raisins
We stop at the Kingsburg Chamber of Commerce to get information on our next destination (Raisin Box). The guy there looks at us blankly, but says it might be at the Sun Maid Growers Store. (We suspect some Raisinism going on here--they have FIVE different postcards of the coffee pot, but NObody seems to know about the raisin box!)
Sure enough, just next to the Sun Maid Growers store is the World's Largest Raisin Box.
Not only is this baby big (12 feet tall and 9 feet wide), it's CERTIFIED as the world's largest! The plaque says that after it was built (1992), it was filled with 16,500 pounds of raisins (which is a LOT of raisins!), and the Guinness folks recorded it as the World's Largest Box of Raisins.

So this is not some two-bit pretender, but the real deal.
And it is a fairly impressive box (we understand they took the raisins out, to avoid having 16,500 pounds of mold). After ten years, the colors are still crisp and bright.
Because the Sun Maid folks did such a good job of properly marking their big raisin box, we reward them by cruising the store. They have lots of raisin-related products such as mouse pads and license plate holders and T-shirts.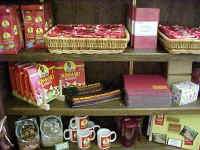 Plus, the whole area smells like raisins, which is pretty nice. Although we imagine that if we worked here, we'd get pretty tired of it.
5:15 pm
Sacramento, CA
Turns out that Sacramento is a fairly good-sized city (unlike most of the towns we visit), so we decide to abandon our usual tactic of driving randomly through town and letting Laura spot what we're looking for.
In this case, we're on the lookout for the World's Largest Sewing Machine Needle. We make our way to "Old" Sacramento (the cutesy part of town with wooden sidewalks where they pretend the old west was fun), but we arrive five minutes after the Visitor Center closed.
We stop at an old-timey ice cream store ("Billy the Kid--put down that double-dip vanilla cone and draw!") where Laura asks two young ladies (who have spent their whole lives in Sacramento) where the needle is. They have no clue, but direct us to what they think is a tourist information stand in the nearby mall.
We sigh, despairing that ANYthing helpful could be found in a mall, but we need a walk so decide to give it a try.
Turns out this is not a mundane mall. For starters, they have VERY cool animatronic dinosaurs on display. Some of them are your typical T. Rex/Triceratops types. But they also have a Deinonychus ripping the throat out of some small, helpless dinosaur.
The displays have sound, so you hear the roar of the predator and the cry of the prey. Pretty darn cool.
Anyway, we can't find a tourist information stand, so Laura decides to ask the Customer Service guy. He (of course), knows exactly where it is ("The sign said 'Customer Service,' so I figured he'd know," says Laura), and he gives us detailed directions.
If you're ever in downtown Sacramento, check out Westfield Shopping Town mall. Cool dinosaurs (until September) and GREAT customer service!
World's Largest Sewing Machine Needle
5:47 pm (2,457 miles)
Sacramento
Our FOURTH World's Largest Item today comes into view as we exit the freeway: The World's Largest Sewing Machine Needle. It's in a light industrial/residential part of town, in the parking lot of the Meissner Sewer and Learning Center (corner of Cormorant and Wooley).
It's about 60 feet tall and looks like someone covered the World's Largest Barber Pole (remember that?) with aluminum foil (which in and of itself is pretty damn impressive). It has some red "thread" attached to it, and overall is a cool effect.
Although there's no plaque or explanation of why it's there, we assume it's a promotional gimmick for the sewing center.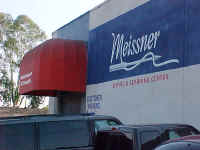 6:36 pm (2,457 miles)
Woodland, CA
Robert is getting to be a real Amerigo Vespucci with the GPS system and the mapping software. He guides us directly to the Cinderella Motel ("because it's a cool name, and it's in a good part of town--lots of places to eat"). There are vacancies when we arrive, but by the time we return from dinner, the No Vacancy sign is lit, because EVERYbody wants to sleep at a motel with such a cool name.
We've had a full day--the Largest Day so far on the World's Largest Trip, so we sleep peacefully (although at midnight we notice that there seem to be mice running in and out of the motel office...).