Day 3
(July 26, 2002)
9:17 am (617 miles)
Medford, OR
In addition to providing us with a Cyber-Suite, the Red Carpet Inn is next door to Sally's Kitchen, which is decorated in early chili pepper (and the pastry case is filled with crocheted socks). Laura orders cold cereal and asks what kinds were available. Sally replies, "Raisin Bran. That's it. I just keep it here for my kid, because nobody ever orders it, but I think he'll share with you."
---
As we fire up Astro for another day's travel, we notice that the electronic compass is now working! Our theory: the Cyber-Suite (particularly the large screen TV) generated an electronic healing vortex that has fixed the compass. (Robert suggested that this might also have made Laura's computer work better, but Laura said it was running Windows 98. So who could tell?) (We later discover the real reason.)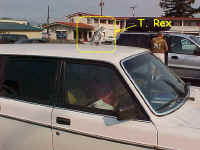 ---
In our haste to get the heck out of Southern Oregon, we kinda accidentally overshot where we wanted to get off the freeway (Grant's Pass), so the first task is to backtrack about 30 miles and get onto Hwy 199.
10:30 am (663 miles)
Various road signs seem to indicate that there's a forest fire in Selma. But now that we're in Selma, we don't see anything burning, or even any smell anything burning.
11:02 am (690 miles)
We cross the border into California, which is one of only two states in the Union with a border inspection (the other state is Hawaii). We are asked if we have any fruits or vegetables, and after answering that we have some tomato slices and half an onion, they graciously declare that we are allowed into their great state. Apparently, if we had been carrying cherries or lemons, Astro would have been subject to a body cavity search.
12:22 pm (745 miles)
Klamath, CA
We stop at "Trees of Mystery" mostly because it has huge statues of Paul Bunyan and Babe the Blue Ox out front. Paul has a hand that moves and a head that turns. Somewhere, somebody sits with a microphone making him talk, as he responds to what people down at his feet say. Babe (the Big Blue Ox) is anatomically correct, to the endless amusement of teenage boys.
We suspect it's not the World's Largest Paul Bunyan and Babe (which is probably in Minnesota), but it's probably the World's Largest Talking and Moving Paul Bunyan and Anatomically Correct Blue Ox.
In any event, it's time for lunch, so it's a good place to stop.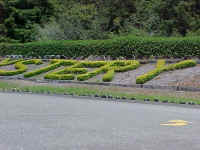 (The "Mystery" part of the "Trees of Mystery" seems to be that there are some trees here that grow into kind of weird shapes. Laura says it is typical of California to take a half-baked semi-natural wonder and turn into a tourist attraction with a gift shop. Robert says "Whoa! did you see the balls on that ox!?")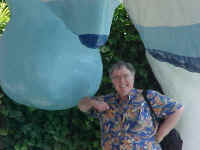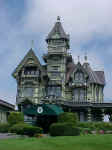 World's Largest Hammer
2:51 pm (813 miles)
Eureka, CA
We think the next attraction is the World's Largest Totem Pole in Leggett, CA, but as we are crawling in stop-and-go traffic in Eureka, Robert suddenly exclaims, "Eureka!"
"Yes," says Laura, "that's where we are."
"No, no! Eureka! As in, 'that's the World's Largest Hammer!' Right there!" Apparently, Robert had temporarily forgotten all about it and hadn't figured it into our travel plans. But he sure recognized it when it appeared next to the road.
It's about twenty feet tall, and sits outside a hardware store (of course) alongside Hwy 101. If you try to find it, you'll probably miss it. You need to take the Zen approach of not looking for it to find it. (Or at least, that's what Robert is trying to tell Laura....)
World's Largest Chainsaw Sculpture
4:23 pm (897 miles)
Piercy, CA
We're driving along Hwy 101 in a particularly twisty part that winds through a forest of redwoods (not, we might point out, the World's Largest Trees, but still pretty darn big). We are headed to what had been advertised as the "World's Largest Totem Pole."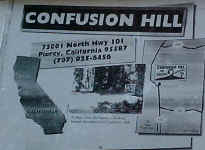 Then we spot a sign alongside the road that says "World's Largest Chainsaw Sculpture," and we are, of course, compelled to stop. In the course of investigating this particular claim, we discover that this is, in fact, what was billed as the World's Largest Totem Pole.
Here're the facts:
It is not, strictly speaking, a totem pole (it's three standing clown bears standing on each other's heads backed by three other standing clown bears).
They don't claim it is the World's Largest Totem Pole (in fact, they don't refer to it as a totem pole at all).
It's not actually in Leggett, but in Piercy (and more properly, in the Middle of Hwy 101).
Still, they do claim that it's the World's Largest Chainsaw Sculpture, and we see no reason to doubt this claim, as it's a pretty darn big sculpture.
Oddly enough, it's actually kind of an afterthought to the main attraction which is "Confusion House" (a house built at a slant on the side of a hill, so it looks like you're standing sideways).
Bonus Latin Phrase for the day:
Nullum Gratuitum Prandium
(there is no free lunch--more accurately, "there is no free meal").
---
After this, we strike out along Highway 1 towards the coast. This is a very twisty, up and down road. At best, you can get up to maybe 25 MPH and Laura managed to make the tires squeal about four times (which is particuarly amusing because she was complaining that Robert drove too fast around twistyturns earlier in the day even though HE never squealed the tires!).
6:22 pm (947 miles)
Fort Bragg, CA
We finally come to a complete stop for the night at a lovely little seaside town. In an effort to keep Astro's electrionic compass working, we get a room with a microwave and a refrigerator. (If the compass stops working, Robert says, then this proves that the big screen TV is an essential part of the healing vortex. Laura agrees as she takes the car keys away from him and securely locks up Astro.)