Day 5 & 6
(July 29 & 30, 2002)
Day 5 (Sunday)
S. San Francisco
Part of the reason we stop in SF (aside from the Cartoon Art Museum) is to worship at St. Gregory's of Nyssa. Someone (well, Elizabeth, to be precise) told us that they had services that were somewhat different than your typical Episcopalian liturgy.
Whoo boy, it sure is different! It's a combination of Touchy-Feely and High Church (meaning, we all hug each other while trying not to sneeze from the thick clouds of incense).
We dance into the church at the beginning, and after communion we all dance around the altar; not the foxtrot or the waltz, though, just Sufi dancing, which is kind of like line dancing only circular.
Robert likes that after the service, instead of stale donuts and bad coffee, they serve good coffee and a lovely selection of Ghiradelli chocolates. Laura likes the music and the dancing.
After all that excitement, it suddenly occurs to us that we are (technically speaking) on vacation. So we decide to vacate for the rest of the day. Naps, comic books, and Clint Eastwood movies on the hotel teevee.
Day 6 (Monday)
8:47 am (1,162 miles)
S. San Francisco
Once again, we saddle up Astro and after opening a few windows to dilute the Bay Rum smell, we hit the road in search of the World's Largest Can of Fruit Cocktail.
9:27 am (1,178 miles)
We're driving down El Camino Real, which Laura says used to be the main drag for missionary monks back in the 1600s. Since then it's kind of gone downhill, as now it is a candidate for the World's Largest Strip Mall. Just one McDonald's and Blockbuster and Office Depot after another. We pass through a dozen towns, but the only way we can tell is by looking at the map ("Oh, that's the Mountain View McDonald's!").
There is also a severe shortage of espresso stands (you'd think it'd be easy to find a drive-through espresso stand in California, which has drive-through pretty much everything else). Finally we stop at a place called the "Happy Donut." Unfortunately, because Robert hasn't had an espresso yet, he doesn't notice until after he orders that the espresso comes from a (shudder) machine. On the way out, he suggests the place should be called "Unhappy Donut."
World's Largest Can of Fruit Cocktail
10:24 am (1,195 miles)
Sunnyvale, CA
Our research shows that the World's Largest Can of Fruit Cocktail is in Sunnyvale somewhere, but (surprisingly enough), its exact location isn't obvious. We stop at the library and ask at the Information Desk. The guy seems surprised that we would be interested in "that thing over there," but he gives us directions.
The World's Largest Can of Fruit Cocktail lives a quiet life as a water tower in a high-tech office park. Many years ago, Libby (the people who made a lot of money putting fruit cocktails in cans), built it to provide water to the cannery that used to be there.
It's not at all "touristy." There's a simple plaque and a guy sitting on a bench reading through some electronics specifications. We gaze in wonder, shoot a few pictures, and take off.
World's Largest Artichoke
11:37 am (1,260 miles)
Castroville, CA
Our goal this time is the World's Largest Artichoke (and no, we don't make ANY of this stuff up). We're a little concerned that if a 30-foot can of fruit cocktail was difficult to find, it might prove challenging to find a 15-foot artichoke.
When we get off Hwy 1 in Castroville, however, we look to the right and see the "Giant Artichoke Restaurant." Our finely honed research instincts tell us that this might be a clue.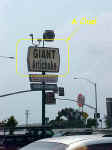 Sure enough, right next to the Giant Artichoke Restaurant is...a Giant Artichoke! This baby is green and a good 15 feet tall and a pretty fair replica of an artichoke (unlike, say, that sleazeball "spitting clam" in Long Beach, WA, which Robert is still steamed (haha) about).
There's also a fresh fruit & vegetable stand, so Laura loads up a case of artichoke hearts to send to a needy friend in Florida (or in case we meet any artichokes in need of a transplant).
1:08 pm (1,315 miles)
Big Sur
We stop for lunch along Big Sur at a pull-out overlooking some spectacular scenery--which is another way of saying "narrow, twisting roads that are either going steeply up or steeply down."
Down below (WAY down below) we see some seals sunning themselves on the rocks, but they ignore our entreaties to do tricks.
World's Largest Clam
4:34 pm (1,424 miles)
Pismo Beach, CA
Once again, we're unsure about how to locate the World's Largest Clam, so we head for the Chamber of Commerce. As we pull into a parking spot in front of the Chamber, we see--The World's Largest Clam! (Our ability to find things seems to be inversely proportional to their size.)
It is a good eight feet across and has two American flags painted on it. (Robert starts singing "He's an American Clam" to the tune of "She's an American Girl" until Laura points out that it's a long walk home.)
This clam is made of concrete, and if it weren't for the flags, actually looks like a clam (unlike certain cheesy wooden clams we won't mention).
5:06 pm (1,444 miles)
Santa Maria, CA
We realize that if we don't stop and do laundry tonight, we'll be driving around S. California naked. Although this probably wouldn't attract any attention, we don't want to stick to the seats (which also smell like Bay Rum).
We find a laundromat, where a large sign warns us that we shouldn't wash any clothes that have crude oil on them. We carefully inspect our clothes to make sure they are crude-oil-free, get a mess o' quarters from the change machine, wash our duds, and give thanks that we have a washer & dryer at home.