Day 1
(July 24, 2002)
Day 1 of the "World's Largest" Trip, wherein we visit various items proclaimed as "The World's Largest," and attempt to discover a deeper meaning.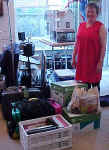 8:37 am (0 miles)
We're off! In our rented (and air-conditioned!) van labeled "Astro" (which is also the name of the dog on The Jetson's, but we're trying not to think about what that means).
We almost immediately discover that Astro has the World's Worst Cup Holders. They are designed to flip your latte cup up and out of the holder and onto the floor at the slightest acceleration. So, with half a latte in us, we hit the highway on the "World's Largest" Tour.
10:25 am (73 miles)
Olympia, WA
Having grown up in Washington, Laura was indoctrinated with all the local lore, which included the fact that "something about the State Capital Dome is large." (Laura says Washington history is dull. The most exciting event was the landing of the Denny Party, and they just whined about the rain.)
Could something about the Capital Dome be The World's Largest Something? We couldn't pass up an opportunity like this (plus we aren't entirely sure how to get on Hwy 101 South), so we stop at Visitor Information in Olympia.
Well, it turns out that the capitol dome is the World's THIRD largest all-masonry dome (the all-masonry part being important--there are many bigger domes, but they cheat by using non-masonry materials). St. Peter's Basilica in Rome is bigger, and so is some dome someplace else (the Information Lady couldn't think of where it was).
Because this is the "World's Largest" tour and not the "World's Third Largest" tour, we snap a quick photo and hit the road again.
Next stop--the World's Largest Frying Pan!
(Oh yeah--to get to Hwy 101 Southbound, you get on Hwy 101 Northbound, of course.)
11:57 am (138 miles)
South Bend, OR
We decide to take a lunch break in South Bend (World's Oyster Capital), so we stop in "Margaret Olson Park." We're not sure who Margaret Olson is, or what she did, but it's not a very big park, so it must not have been anything too important.
Also, the park is right on the highway, and across the street from an oyster pier, so it's not entirely idyllic. But it is hard to forget that you're in the World's Oyster Capital when all you can smell is expired oysters.
The World's Largest Frying Pan
13:29 (185 miles)
Long Beach, WA
We're concerned that we might not be able to find the World's Largest Frying Pan, so we stop at Visitor Information where we chat with the two ladies working there.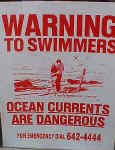 They are a fountain of information about the Frying Pan (although they seem far more interested in discussing Frank Lloyd Wright's architecture, and we have to keep steering the subject back to the Frying Pan).
Seems the Frying Pan used to go on tour across the country (in simpler times--now it probably wouldn't make it past airport security). Its handlers would fry up such things as the World's Largest Omelet. It now enjoys its retirement securely bolted to a platform in downtown Long Beach.
At 18 ft 4 inches, it's a pretty darn impressive Frying Pan, and according to Marsh's Free Museum across the street (a candidate for World's Weirdest, if not Largest, Museum) it has cooked up clams, fish, hot cakes and scrambled eggs.
World's Cheesiest Spitting Clam
Next to the Frying Pan is The World's Largest Spitting Clam (which we think means "geoduck"). This is totally lame. It's carved out of wood (think about it--how hard is it to carve a clam out of wood?), the neck sticks out only a little bit and is painted with fading yellow paint. The rest of the clam is unpainted and has a pronounced wood grain.
We think those carved bears you see by the roadside are classier than this clam. Fortunately, it's only about 10 feet from the Frying Pan, so we didn't go too far out of our way to see it.
We also wandered through Marsh's Museum, which is full of odd things. In particular, there's a lot of old coin-operated devices, such as player pianos, and movies, and strength tests. For twenty-five cents we watched a mechanical hanging, completely with tolling bell (an early example of "Pay-Per-View"). "Strange" doesn't really begin to cover it....
3:28 pm
We're driving along the coast where it's pretty cloudy, but we can see the ocean. Every so often we round a bend in the road and see a sweeping panorama of ocean, beach and hills. It's like driving through a post card.
Astro has a neat electronic display that helps distract the driver and keep everybody on their toes. The display includes a compass that gives you a heading (S, SW, W, and so forth). The compass has started displaying "C" but we're not sure what this means (and we can't find the Help button). Coast? Confused?
World's Largest Freestanding Wooden Building
4:23 pm
Tillamook, OR
Okay, we do not need to stop by Visitor Information to find the Air Museum. Just head south from Tillamook on Highway 101, and watch for the giant Quonset hut with "Air Museum" painted on the side in 80-foot letters.
The Air Museum is housed in The World's Largest Freestanding Wooden Building that was originally built to house a squadron of blimps during World War II. Back then, we weren't sure if the Japanese would invade the coast, so the government thought "Blimps!" Because these particular blimps can stay aloft for three days, they were dandy for coastal patrols. Rumor is they actually dropped some bombs on some submarines, but details were lacking.
Anyway, the Air Museum is HUGE. Imagine standing in a gymnasium. Got it? Okay, now imagine there are two gyms together (twice the size). Keep going until you've got about 10 gyms and you begin to get an idea of how hugely big this place is. According to the literature, you can fit six football fields inside.
Also, at one point just for fun, they decided to hold a hot air balloon rally INSIDE the building. They easily fit 27 hot air balloons!
There used to be two hangars, but one of them burned down in 1992 (which is probably just as well, because then there would be some dispute about which one of the two was actually the World's Largest).
The building is now home to a number of still-flying planes, mostly from World War II, such as P-51's and a couple of bombers. You can tell the planes are still being flown, because they're leaking oil onto strategically placed drip pans and rags.
Mostly, the planes look kinda lost in the hugeness of the building. Feeling somewhat small and insignificant, we decide to camp for the night at a motel in Tillamook (Home of Tillamook Cheese!). The floor of our room slopes rather sharply in one direction, which makes getting up in the morning a challenge. Fortunately, it slopes towards the coffee maker...